Disclosure: This post contains affiliate links. If you use these links to buy something, we may earn a little commission at no additional cost to you.
Have you ever heard this quote by Dr. Seuss "Why fit in when you were born to stand out?"
You might be thinking like
Is it bad not to fit in?
In society, is it better to stand out or fit in?
Do you really have to fit in anyway?
Has "fitting in" ever made you stand out more than "fit in"?
Then don't worry you will get all the answers to these questions and still feel kind of confused, feel free to hit me on the comment section below I'll be happy to cheer you on.
This quote is so inspiring for me since I read it for the first time, maybe because It reignite my own belief and the way I wanted to live in this world.
We are in a modern era right now, and the world is very much likely to participate in a rat race because it's very easy to shuffle around like everybody else,
Why do you want to take a risky path when you already have a proven way to do the same thing?
But, yeah that's what makes you unique. you are the one & you are the beauty with the beast inside. I do always believe that everybody has their own unique ability to offer something to this world.
So,
why shouldn't we?
why do we do the same thing as other people when we have a different way to see things?
why do we fear so much about being judged?
That makes me so unhappy – we are not living in our own element.
I always advise people, that you never choose to fit in this will put you into the habit of compromises. When you are capable of burning insanity.
It'll limit your creativity and resist you from exploring things that you never thought were possible for you.
And sadly, you'll stop voicing your opinions with the fear of what other people think of you.
Why fit in when you were born to stand out

[Quote Meaning]
So, What does it mean to be born to stand out? 
Originally this quote is by Dr. Seuss, which was a big impact in my life and the way I wanted to live in this world.
The main meaning of this saying is to "Be Yourself".
We are all very unique in terms of our character, talents, abilities, welfare, & own sense of beliefs.
This expression encourages people to avoid changing aspects of who they really are in order to fit in with or be liked by others.
"Why fit in when you were born to stand out?"
-- says the butcher looking for the longest neck.
-- says the author encouraging new writers.
-- says the people who are different to be different.
-- says the misfit getting the tenth body piercing.
-- says the teacher counseling a bullied student.
-- says the entrepreneur about risks worth taking.
The proper meaning of this message depends entirely on WHO is saying this to WHOM and for WHAT PURPOSE (WHY).
My understanding of this saying and the way I take it:
In order to be accepted by the society that we're live in, most people try to fit in. 
They forget who they are in the process and why they came into this earth. Society, family, institutions, other communities tend to be normative and deny us to be totally ourselves.
But for me personally 99.99% of the time I would like to stand out, even though it's never gonna be easy after facing so much criticism.
But, I do believe, I have very strong self-esteem and self-confidence to stand into the odd, either I really don't really care about what other people say or think of me.
Is it better to fit in or stand out?
---
Everyone is born unique… we should not be destroying our essence just to fit in somewhere else, that is not meant for us.
Do not hurry to fit in somewhere… Better have patience, I'm sure you will find a better place communed to your uniqueness.
Just remember…
You are the most beautiful creation of God, as we all are. do not ruin yourself just to FIT IN somewhere.
Uniqueness itself have a trait to fit into the deserving place, people or any situation.
We are not like a joker to mask ourselves to fit into anyone's show. I do always advise people to be unique. Right things will fit into you automatically.
A lot of people wondered where this quote came from,
This is from The Lorax which was published way back in 1971. Dr. Seuss (Theodor Seuss Geisel) was especially known for his children's books.
He is an author with many of his books taking up to a year to write.
Check out some wall decal sticker of this quote,
Check out some of the wallpapers for your desktop and smartphones of this quote,
Feel free to share with your friends >>>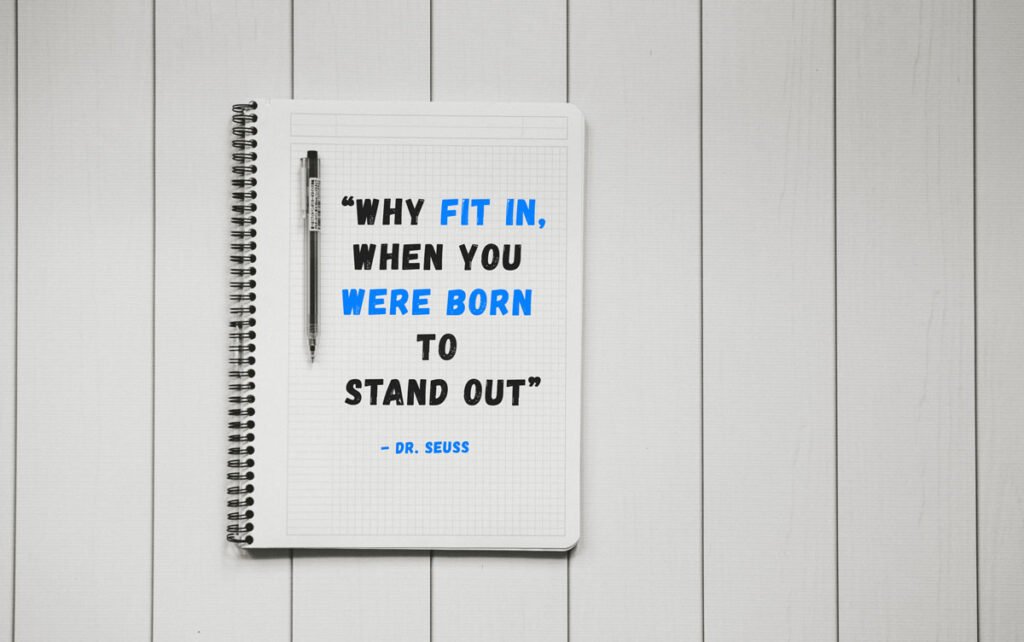 Check out some of the posters and wall art canvas print of this quote.
You can use these in your hall, bedroom, offices, or anywhere you want, which will boost your motivation to be unique.
Final

Thoughts
At this point, I've written 100s of blogs/articles but, I never found myself having so much fun & fulfilling while writing it better than this one.
It just sinking something out of thin air.
We all are unique and have our unique abilities, you should never shatter your uniqueness to live like someone else, otherwise, you'll never live up to your potential.
That sums up with my quote -
"Everyone is born with a gift, it's your responsibility to find what that gift is and use it to change the world, no matter how difficult it's gonna be" - Rey Sagar
So, lastly, I just want you to live up, to your potential, with your own unique talents and abilities, always cherish yourself by being who you are and what you've accomplished so far, maybe someone next to you, catching up.
If you found any, that's what you left for this world.
You Are Remarkable 
Bless You, All.