Disclaimer: This is not a guaranteed method to make you a billionaire if you don't put in the work, and we are not responsible for your success and failure, so before you start anything straight from here, you better do more research on what you want to do.
Have you ever thought about becoming a Billionaire? and kind of wondered which business can make you a billionaire? is it possible?
You might be inspired by some of the wealthiest people on the planet, but don't know where to start. Don't worry, you are at the right place.
In this article, we are going to share the top 10 businesses that can make you a billionaire in the next 30 years if you put in the work. It will help you to generate a massive passive income to give you the real freedom to do anything you want.
A billionaire does not build overnight and a lot of successful people that you know, have great vision and idea to make things happen.
If you look at the people like Jeff Bezos, Bill Gates, Elon Musk, Warren Buffett, Mark Zuckerberg, Larry Page, and more. They had a great idea and wiliness to achieve something by becoming odd.

Also, Read: Multiple Streams Of Income Ideas In Your 20s
---
Well, there are hundreds of ways to make millions and billions of dollars, It's totally up to you which one works for you.
And how big your ideas are also, how hard you can work to get there. We all know there is no overnight success, even though you see something similar because of the media and the internet.
Those platforms don't show how hard they worked and how many times they failed before getting there.
If you are here to know to get rich quick scheme, Then I am sorry this article doesn't worth it for you.
Now, let's talk a little about what type of business works in these modern times to make that amount of money & business that can make you a billionaire eventually.
What Business ideas will make you a Billionaire?
There is no perfect answer to this question, our lives are changing and what worked yesterday might not work today.
If you look at all the billionaires in the world, everyone has a different idea to make it happen.
Some have an e-commerce business, some have a software company, some have retail businesses, some have a grocery market, and some focus on future technology.
That's why you should have great intention and passion to do whatever idea you have on your mind. Life is not only about solving a problem and making millions of dollars. There is more than that.
What's the Secret Hack that can make you a Billionaire?
The one answer that came to my mind to this question is, that busy business makes billionaires.
A product used by many people to make the owner billionaire. Look at these companies:

Microsoft, used by many.
Apple, used by many.
Amazon, used by many.
Facebook, used by many.
Walmart, used by many.
Google, used by many.
Tesla, used by many.
Nike, used by many.
Coca-cola, used by many.
Dell, used by many.
McDonald's, used by many.
L'Oréal, used by many.
Also read: Lack of financial education in schools
How To Find A Perfect Billion-Dollar Idea?
There are a lot of methods to choose how you'll going to find that industry that will help you to become wealthy.
Here is a list of things you can do to find the ideas that will make you a billionaire:
Try to solve the problem
One of the best possible ways to generate the Idea is to try to solve a problem of people in everyday lives. Look for annoyances or problems in the world. Where most of the world is desperate, look for these as opportunities for new companies.
When your day is over, and you hear people complaining about something, write it down so that you can see it later and come up with new solutions.
Make the cheapest choice
The cheapest option in business is always worked 100% of the time, people naturally tend to take the cheapest option. When you are living your life, look for things that you can price higher and think about how you can get it cheaper.
It's possible to make a rocket company like SpaceX using cheap technology & cheap engineers, so why not?
Get ready for an idea
The best ideas often come to you in the most unpredictable moments. Always be ready for the idea, have something to write down on your phone, and note where you can save that idea.
Your subconscious is always at work and comes up with things in seconds at random times. Like, I got the idea of building a travel app while traveling to different states.
Give yourself time
The million-dollar software idea may not come to you right away, it will take time. To find the idea, you have to constantly think about it and see the world around you with a new pair of eyes.
Do not despair or disturb yourself, you should give yourself time to surface there.
Now, let's talk about some of the businesses that you can do to become the next billionaire.
Top 10 business that can make you a Billionaire (Big Industries For the Future)
There are tons of business ideas that will make you a billionaire.
All these ideas can eventually make you a billionaire if you choose the right path and put in the work on the huge marketplace.
Which area should you pick?
Take your pick. It's easy. There are obvious billionaire opportunities all over the place.
The limiting factor here obviously isn't the general area of the idea. It's not a vague concept. It's not a soundbite that says "all you have to do is follow your dreams" or "figure out the new way to make people's life easier than yesterday.
Furthermore, It's actually being able to solve the big problems, rather than just waffling on about them.
We have made the list of the best business ideas to make you a billionaire in the next 20-30 years.
But, always remember you have to put in the work to get there.
Let's start with the first – business ideas that will make you a billionaire:

1. Internet Of Things
Our computers are all networked, and we are able to communicate through them. Then came mobile phones that soon got networked.
The industry is growing rapidly growing day-by-day, what about networking and all the other things that we use?
Take the example of ⇔ Google Nest Thermostat.
What if your Oven & Refrigerator can directly get the recipe from your friend and make a nice Cheesecake?
Gartner estimates that 26 billion devices will be ready for networking by 2021. That means each one of our homes might have 25-30 such devices speaking with one another, that is just insane when you think about it.
2. Solar Energy
Solar Energy is still more expensive than conventional energy sources.
However, the cost of solar energy is rapidly falling, and it's way more convenient to produce.
At this rate, solar energy might have parity with conventional energy in a decade. That will radically change the industry and trillion-dollar solar power energy will evolve. Elon Musk already started SolarCity. Which manufactures produces solar energy.
As more Americans express interest in green energy, many are taking a fresh look at how solar can meet their electricity needs. According to the EIA, residential solar has grown about 32 percent in the last decade in many states. that means adding solar panels to the rooftops of homes and businesses is a great idea though the production and demand might increase day-by-day. – saveonenergy
331 billionaires are in manufacturing, which is 12% of the list of all the billionaires in the world.
Richest: He Xiangjian ($35 billion), founder of appliance maker Midea Group. The company has more than 200 subsidiaries and trades on the Shenzhen stock exchange.
If you wanna know more about the solar industry if a better idea to check out this article Solar Energy Overview by saveonenergy.
Extra source: How Billionaires Got So Rich?
3. Electric Vehicles
The future of vehicles is electric cars, buses, trucks, motorcycles, and more. We have already seen the growing popularity of electric vehicles day by day, that's how Elon Musk's net worth is flying like a rocket because of the high demand for Tesla vehicles.
There are other companies that are already in the game of automobiles for a decade like Ford, Audi, Volkswagen, BMW, Mercedes already launched their electric vehicles.
Tesla finally started to produce more sustainable electric cars with the recent model 3, Model S, Model X, and Model Y. However, we have a long way to go in revolutionizing battery technology, distribution stations, and creating automobiles.
That's why Elon Musk also started the Gigafactory.
4. Apps & Software
This is one of the popular and well-used businesses that can make you a billionaire, there are so many software companies out there but still, there is a huge chance that you can start one and eventually turns it into a billion-dollar idea.
This continues to be one of the most publicized industries, creating new Billionaires.
With the increase in technology, this is a likely industry to continue producing the most Billionaires over the next 30 years.
And we know It doesn't matter how many apps and software are out there on the market today, there is still a chance for another Microsoft, Facebook, or Snapchat.
Have you ever imagined that Zoom & TikTok will blow up like this?
From the middle of nowhere TikTok is now worth $250 billion which turns Zhang Yiming personal wealth estimated at $44.5 billion according to Bloomberg Billionaires Index and Zoom has $117 billion, which turns around the Zoom Video Communications/CEO Eric Yuan Net Worth is 12.8 billion USD (2021) According To Forbes.
5. AI Artificial Intelligence
Artificial Intelligence (AI): Techopedia defines it as:
Artificial intelligence (AI) is an area of computer science that emphasizes the creation of intelligent machines that work and react like humans. Some of the activities computers with artificial intelligence are designed for include:
Speech recognition
Learning
Planning
Problem-solving
Based on a report in TechEmergence This industry will grow to over $150 billion dollars over the next five years — $83B for robots, and $70B for artificial intelligence-based systems.
This is driven by the aging population and the rise in wages in developing countries. AI isn't all about robots – It's in your phone, it's fraud protection, online consumer support, Text Editors or Autocorrect, Chatbots, Maps and Navigation, and many more.
The possibilities are endless.
6. Real Estate Rental and Leasing
To become a billionaire in real estate, you cannot just be an investor in some sort of land or property.
You must be a developer. You cannot rely on inflation, nor even on improving the management of your properties by raising rents and cutting costs.
Furthermore, you need to create big amounts of value by making big changes to the property, which will gonna have big capital space in the future.
The first obvious way is to take land and build buildings on it.
The second way is to rezone land or property to a higher, better, and thus more valuable use.
The third way is conversion, such as turning units into condominiums; turning golf courses into premium luxury home lots backing onto the golf course; turning old industrial buildings into self-storage units, or nightclubs, strip clubs, restaurants, bars, motels, and hotels.
The fourth way is to convert and use property into a combination of real estate and business use. Such as a hotel, casino, restaurant, trade show buildings, indoor flea market, etc.
215 billionaires are in Real Estate businesses, which is 8% of the list of all the billionaires in the world.
Richest: Lee Shau Kee ($31.7 billion), cofounder of property developer Sun Hung Kai. Before that, he started Henderson Land Development in 1976, which makes up the majority of his wealth.
Source: How Billionaires Got So Rich?
7. Retail & Fashion Industry
Most of the billionaires in this industry either earn it over a lifetime (the Albrecht brothers are in their 90s), or inherit it (like the Walton family)
Also, in the Fashion Industry, Where the valuation is more fluidly based on market perceptions than hard costs of real commodities, and so charging high prices and selling high valuations may be easier.
There is high demand in the retail and fashion industry because It's never-ending and necessary for our daily lives.
273 billionaires are in Retail businesses, which is 1% of the list of all the billionaires in the world.
Richest: Bernard Arnault ($150 billion), chairman and CEO of LVMH. He oversees over 70 brands, including Louis Vuitton, Tiffany & Co., and Sephora.
Source: How Billionaires Got So Rich?
8. Space Industry
Space Technology and Space Tourism will reach a massive amount of revenue in the future, and you have already seen like biggest billionaires in the world.
Elon Musk & Jeff Bezos have their own space company, SpaceX & Blue Origin.
Billionaires who will invest earlier in these industries will likely earn enormous amounts of money in the near future. For sure, these industries will change the way man views his own world and will challenge many traditional beliefs as well.
365 billionaires are in Technology, which is 13% of the list of all the billionaires in the world.
Richest: Jeff Bezos ($177 billion), founder of e-commerce giant Amazon. The second richest person in the world also owns the Washington Post and the space company Blue Origin.
Source: How Billionaires Got So Rich?
9. Investment & Finance
This is perhaps the most linear route to becoming a Billionaire, as it involves some of the largest margins in the past decade.
There is not only one company to invest in, but most of the biggest investors also invest in multiple companies, and they held good amounts of shares which will ultimately make them billionaires in the long run if the company's value grows.
But to do that, you'll need a lot of patience and a huge amount of knowledge of finance & investments.
371 billionaires are in Finance & Investment, which is 13% of the list of all the billionaires in the world.
Richest: Warren Buffett ($96 billion), chairman and CEO of Berkshire Hathaway, which owns stakes in over 60 companies, including Duracell and Dairy Queen.
Source: How Billionaires Got So Rich?
10. 5G Infrastructure
The last and most exciting one is the 5G connectivity.
This is one of the best business ideas to become a billionaire in the future.
We believe the next revolution of the world will be pushed in 5G connectivity and fortunately, this will give many people opportunities to become billionaires.
First off, to define 5G:
5G is the "fifth generation" of communications networks after the previous versions 3G & 4G. It will be much faster and much more well-equipped to handle the vast amounts of data and communications that flow over the channels on a day-to-day basis.
Primary benefits of 5G:
Very fast speed
Shorter latency (the lag between the device and network),
More connectivity
Let's see why we believe this will create billionaires in the upcoming future:
The production of the equipment, upkeep costs, and deployment costs will make a lot of money for a lot of people. Simply knowing how to construct these networks will give companies the ability to work with the communications industry and local governments to build the infrastructure.
Those that position themselves well in this market could become billionaires.
Challenges: "Unsurprisingly, the barriers to the 5G future are not technological but regulatory." (Layton, Forbes)
The FCC has taken the lead to streamline the deployment of 5G infrastructure (Layton, Forbes)
Possibilities of 5G:
Self-Driving Cars:

Moving forward with 5G, the goal will be that the wireless world will expedite consumer demand for autonomous vehicles

Already, 5G's lower latency, higher data rates, and higher bandwidth, for instance, are capable of transmitting packets of data directly from one car to another to a streetlight and then bouncing more data from a streetlight to another vehicle. (Smedley, Connected World)

Smart cities

Development of smart cities like we've never imagined (Smedley, Connected World)
It will enable governments to understand better and be able to manage most of the activities of the public, such as traffic congestion and electricity consumption.

Those in authority will not only gain a better understanding of things like electricity usage in such cities but have insights into how commuters move around the city, which is crucial for further development to take place. (Miller, Tech Technik)

Smarter smartphones

Smartphones will be all-around better. That with the addition of AI in your smartphone and devices will make for a user experience far better than we have today

Augmented Reality and Virtual Reality (AR and VR)

5G will revolutionize the video gaming industry and movie/film industry. The user experience will be different from anything we've seen today. Users will be able to participate in interactive movies/games with people across the world with seamless connections.

Improvements in Healthcare

Hospitals will be able to have a full view of their patient's condition whenever they arrive. And under critical conditions, the speed of the 5G network will enable the health professional to save the life of the patient. (Miller, Tech Technik)

Cryptocurrencies

Cryptos will be more efficient, safer, and more trusted with 5G networks. Additionally, the blockchain will become more efficient and better equipped to handle the massive amount of transactions possible with cryptocurrencies.
With such a revolutionary upgrade to the communications industry, many people will find ways to benefit and make lots of money.
Anticipate more changes in the next 50 years than the world has ever seen. 5G will enable unthinkable innovations in so many industries that are present today.
Article Source:↵
What Business can make you a billionaire In India
You don't need to reinvent the wheel because there are billionaires in almost every industry you heard of.
All you have to do is make a product that is better (at least 10x) and sell at a decent price than what's available and aim to gain the lead in the market.
Here are some of the Best Businesses that can make you a billionaire In India that will do well in today's marketplace as well as in tomorrow's market:
Future billionaire business ideas in India:
Telecommunication
Retails
Consumer Automation
Solar Power
Computers & Electronics
Banking
Education Technology
Hotels & Restaurants
Clothing
Infrastructure
Mobile Applications
Internet Company
Real Estate
Software Services
Rental & Investments
Also Read: What Is Net Worth? How to track Net Worth?
Final Advice
You start with one product, master it and then move on.
The profits you get from that product can be used to expand into more products or different industries. Over time, you will become a billionaire!
This quote sums up everything,
"The best way to become a billionaire is to help a billion people."
You don't have to become a billionaire through one product/industry or in one year.
Take a look at products billionaires make, and you'll notice they are relevant for almost most of humanity.
And that, my dear boy, is why they're billionaires in the first place.
The size of their market is just so massive, either that, or it's insanely profitable and the markets value their company market cap so high the valuation goes to the moon, and the stake/ownership value of the individual becomes worth billions, and you're officially a billionaire (this is the case with all billionaires).
The billionaire is really a byword for "someone who has a considerable piece of the world economy in their hands ".
So, in short, my answer to your question is simple. If you want to make a billion dollars, don't ask how you can make it.
Instead, ask who can you help. If you can find a way to solve a problem for billions of people, you may be well on your way to cracking the 10-figure code for yourself.
Becoming a billionaire isn't a goal. To pull that off, you'll need to be motivated to run your business for the long haul, and you'll need a team that's just as excited about working for you and making your business a rousing success.

Use your business to help them create and share important memories. Make them feel like they couldn't live without your business.
Lastly, Set your goal for at least 20-30 years.
Why stop at multi-billion dollar industries?
We already talked about business ideas that can make you a billionaire, but what about trillions?
We're speaking about multi-trillion dollar industries of the future. And what do these fall under? Space.
Specifically; asteroid mining, space junk, and satellites.
Asteroid Mining, Yes, you heard that right.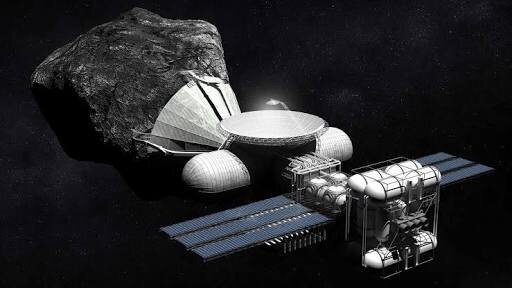 Asteroid mining is the exploration of raw materials from asteroids and other minor planets, including near-Earth objects. Source: Wikipedia Organization

What you may not know is that asteroids hold extremely valuable minerals and resources. Such as water, fertilizer, palladium and other precious resources
The water can even be used to fuel rockets (Hydrogen and Oxygen).
Asteroids go under three categories:
C Type – Consists of rock, water, carbon compounds, and some metals.
S Type – Consists of some Magnesium, Iron, nickel, and precious metals.
M Type – Consists of pure precious metals (such as Palladium and gold), and pure Iron and Nickel.
3554 Amun (one of the smallest M-class asteroids) is in fact worth over 20 trillion dollars. That's $20,000,000,000,000!
According to Planetary Resources (an asteroid mining company), the asteroid contains $8T ($8,000,000,000,000) worth of Palladium, $8T ($8,000,000,000,000) worth of Iron and Nickel, and $6T ($6,000,000,000,000) worth of Cobalt. There are more metals in that asteroid than we have mined in the history of mankind!
Obviously, if you mined the entire asteroid, the oversupply would drastically reduce the value of the resources you uncovered. The $20T may only end up being worth $2T.
And if recovering and refining the resources costs you (being generous) upwards of $500B ($500,000,000,000) you would still come out with a $1.5T ($1,500,000,000,000) profit making you the world's first trillionaire.
You would be worth more than Apple, General Electric and Amazon combined. That's why Planetary Resources co-founder Peter Diamandis literally said, "there are $20T paychecks up there waiting to be cashed".
What is stopping asteroid mining?
Expensive technology (which will become surprisingly cheaper in the future), and lack of funding. This could all change in the very near future.