As an entrepreneur, a lot of people asked me what quote motivates you to be an entrepreneur and why?
It's not easy as it sounds to answer this question because there are so many great people who lived on this earth who taught me a lot.
Even though I didn't meet them personally, we have a huge improvement on technology stuff, that's why we are able to access people's advice pretty easily.
I'm very thankful for that.
Everything I've learned over the past few years is, whether Reading books or by listening to a lot of great people who are already there where I want to be in the future.
In this article,
I will share my own experience about entrepreneurship, and eventually you'll be able to find what quotes motivate you to be an entrepreneur for yourself too.
Let's jump into the entrepreneurial mindset of why we need good intention and great passion to achieve success.
What Quote Motivates You To Be An Entrepreneur And why?

Reasons
There are so many quotes that you can follow to live by as an entrepreneur, but the one that stayed with me forever is the one that represents who I am today. 
Well, let me get straight forward to the point,
Nothing motivates you until you motivate yourself - Precisely speaking, not even motivation is enough to accomplish anything in life.
Especially as an entrepreneur, you have to do things that are always discouraging, and you have to walk into a path that you never heard of before.
But it is always possible to make your dreams comes reality you just require a good amount of discipline, consistency, and perseverance to take the risk and think differently, especially in entrepreneurial ventures.
Here is one quote which motivates me and kept reminding me who I want to be as an entrepreneur. Whether creating a product or service which actually solves a problem or serving people for a good shake.
Because It's not always about money or status, It's about the passion & the legacy that you leave behind for future generations.
I always kept this quote in my head before starting anything. Whenever I step up from my comfort zone and try new things, this quote gives me huge motivation. Also, take care of my intentions to achieve anything.
Founder & CEO Of Kunwar Bros
"Your purpose always molds into making other's life better & your passion fuels the idea that glorifies your potential to create anything that seems impossible"
Why do we compete and compare ourselves with other people?
Why do we get jealous when we see the success of others?
Why don't we use our purpose to make a difference in the world for the better?
Isn't it better to fight with our own procrastination, failure, laziness, jealousy, bad habits, inferiority, poor mindset, and fear instead of comparing our life with others & doing nothing?
Isn't it better to use all of our energy to innovate products or services with new ideas, to change millions, lives?
As an entrepreneur, we have to do a lot of things by ourselves unlike the business people or an investor, an entrepreneur has a different role in business.
The role of an entrepreneur is to create a firm to realize its idea, which uses the skills and initiative necessary to anticipate needs and bringing goods to market.
It is important to build a diverse set of skills and then apply those skills in the real world to make other's lives better.
This quote helps me to sum up everything I do in business and day-to-day life.
If an aspiring entrepreneur has a background in finance, they can move into a sales role at their existing company to learn the soft skills necessary to be successful. Once a diverse skill set is built, it gives an entrepreneur a toolkit that they can rely on when they are faced with the inevitability of tough situations.
But selling a product doesn't do anything if you don't have a good product itself, that's why you should focus on building a good team with the same vision which fuels your passions to create anything which seems impossible.
I do strongly believe that if your intention is not right and have no passion for your business, It's never going to happen. It's just so difficult to create something out of the box and there is some point and times it's going to be really tough & you will gonna quit.
That's when you realize your purpose in creating something, Why you started? What if I will be successful? How many lives I can change If I succeed? Those questions help you to keep on track again.
Many famous entrepreneurs are famous for having dropped out of college, like Steve Jobs, John D. Rockefeller,Ted Turner, Mark Zuckerberg, Sergey Brin, and Larry Ellison they don't have any college degree but their ideas were so big that changed the entire world.
Self-improvement

is not an easy task.

But it is only possible when we consistently try to break our bad habits, truly commit to giving 100% dedication to creating something, always ready to sacrifice our comfort zone for the better, be grateful for what we have but always focus on improving ourselves, act as a positive person despite having a negative situation to solve problems differently.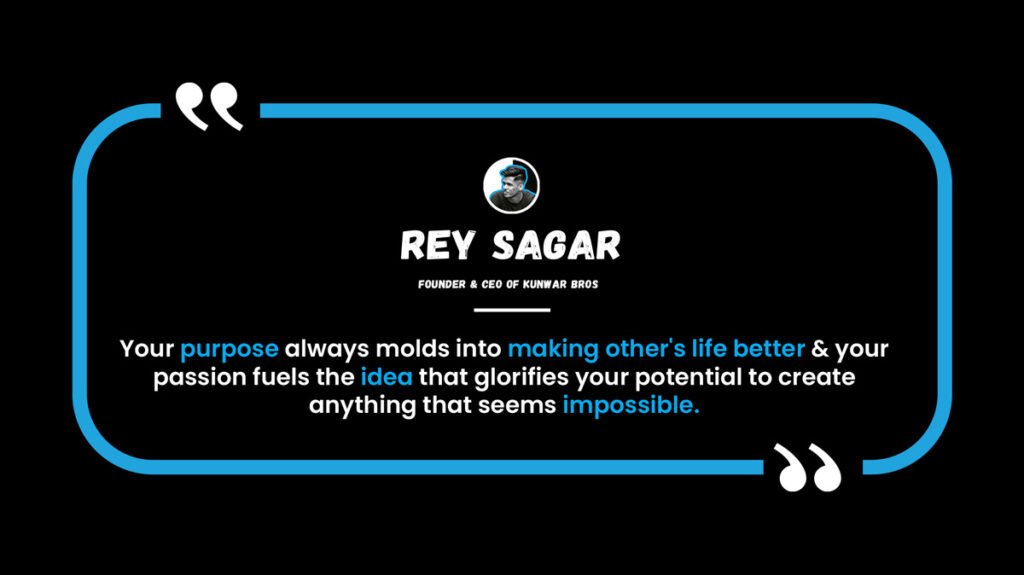 Your life, Your rule. You know yourself better than billions of people.
You know your vision, your idea, your ambitions, and ultimately you are the one who can do it.
There are some ways that may work for others, but it may not work for you, you might have a greater idea, better potential to create something new.
I also really love this quote, Innovators are the ones whose dreams are clearer than the reality that tells them they're crazy.
Which is very true. There is something that you can do better than anyone else, you have your own dreams that you believe in, even though people might think that you are stupid and asking too much for yourself.
You can be extremely successful by nurturing your vision with smart work. So, don't compare yourself with others, just learn from great people and always try to find the solutions when you see the problems, that's when you create something extraordinary.
To recapitulate,
I always kept this quote in my head all the time and write in my notebook from time to time to reflect on everything I do.
This quote gives me a great boost of self-awareness, inspiration, and encouragement to stick with the right direction to make things better in other people's lives by getting things done.
The quote rings like moral support for me to remember my purpose of starting something and use my passion to fuel the ideas in my mind to create something extraordinary.
I hope this answer motivates you by at least 1%.
Cheers Everyone & good luck if you are on the journey of becoming an entrepreneur to create the impossible.

Why do we need

motivational quotes?
Note: This is purely from my perspective & experience, so It'll be one-sided.
We don't need motivational quotes, but they're great at encouraging and giving energy on down moments.
Motivational quotes are what I consider a boost from all the stresses, hardships, failures, or frustrations going on in life that includes:
Final Exams
Achieve big dreams
Projects (Usually from school)
A huge undertaking
Heartbreaking
Pressure from life
Facing failures
There's much more, but that's all I could think of for now
Quotes, especially motivational ones, are a great thing to society nowadays; I see them as reminders and the positives to all the negativity of life, which is really great.
What quotes motivate you to be an entrepreneur?

50+ Quotes
1."Your time is limited, so don't waste it living someone else's life. Don't be trapped by dogma – which is living with the results of other people's thinking. Don't let the noise of other's opinions drown out your own inner voice. And most important, have the courage to follow your heart and intuition. They somehow already know what you truly want to become. Everything else is secondary." – Steve Jobs
2. "The secret of change is to focus all your energy not on fighting the old but on building the new." — Socrates
3. "Winners never quit and quitters never win." – Vince Lombardi
4. "My biggest motivation? Just to keep challenging myself. I see life almost like one long University education that I never had — every day I'm learning something new." – Richard Branson
5."The best way to predict the future is to create it." – Peter Drucker
6. "It's fine to celebrate success but it is more important to heed the lessons of failure." – Bill Gates
7. "It takes 20 years to build a reputation and five minutes to ruin it. If you think about that, you'll do things differently." – Warren Buffett
8. "One of the huge mistakes people make is that they try to force an interest on themselves. You don't choose your passions; your passions choose you." – Jeff Bezos
9. "I have not failed. I've just found 10,000 ways that won't work." – Thomas Edison
10. "Twenty years from now you will be more disappointed by the things that you didn't do than by the ones you did do. So throw off the bowlines. Sail away from the safe harbor. Catch the trade winds in your sails. Explore. Dream. Discover." – Mark Twain
11. "The price of success is hard work, dedication to the job at hand, and the determination that whether we win or lose, we have applied the best of ourselves to the task at hand." – Vince Lombardi
12. "Logic will get you from A to B. Imagination will take you everywhere." – Albert Einstein
13. "As long as you're going to be thinking anyway, think big." – Donald Trump
14. "Success is walking from failure to failure with no loss of enthusiasm." – Winston Churchill
15. "Keep away from people who try to belittle your ambitions. Small people always do that, but the really great make you feel that you, too, can become great." – Mark Twain
16. "Genius is 1% inspiration, and 99% perspiration." – Thomas Edison
17. "If you cannot do great things, do small things in a great way." – Napoleon Hill
18. "I don't know the key to success, but the key to failure is trying to please everybody." – Bill Cosby
19. "Success is not what you have, but who you are." – Bo Bennet
20. "Entrepreneurship is living a few years of your life like most people won't so you can spend the rest of your life like most people can't." – Warren G. Tracy's student
21. "To win without risk is to triumph without glory." – Corneille
22. "There is only one success- to be able to spend your life in your own way." – Christopher Morley
23. "Whatever the mind can conceive and believe, the mind can achieve." – Napoleon Hill
24. "Success is not the key to happiness. Happiness is the key to success. If you love what you are doing, you will be successful." – Albert Schweitzer
25. "What is not started will never get finished" – Johann Wolfgang von Goethe
26. "The function of leadership is to produce more leaders, not more followers." – Ralph Nader
27. "When you cease to dream you cease to live." – Malcolm Forbes
28. "Formal education will make you a living; self-education will make you a fortune." – Jim Rohn
29. "Your most unhappy customers are your greatest source of learning." – Bill Gates
30. "The most valuable thing you can make is a mistake- you can't learn anything from being perfect." – Adam Osborne
31. "A leader is one who knows the way, goes the way, and shows the way." – John C. Maxwell
32. "Choose a job that you like, and you will never have to work a day in your life." – Confucius
33. It's not about the money. It's about the passion. – Cristiano Ronaldo
More Entrepreneur Quotes

To Live By
Hustle until your haters ask if you are hiring.
A little progress each day adds up to big results.– Unknown
We may encounter many defeats but we must not be defeated. – Maya Angelou
Goals may give focus, but dreams give power. – John Maxwell
It's not about money or connections. It's the willingness to outwork and outlearn everyone when it comes to your business. – Mark Cuban
What good is an idea if it remains an idea? Try. Experiment. Iterate. Fail. Try again. Change the world. – Simon Sinek
If you think you are too small to make a difference, try sleeping in a room with a mosquito. – Lisa Lieberman-Wang
My best advice to entrepreneurs is this: Forget about making mistakes, just do it. – Ajaero Tony Martins
Take criticism seriously, but not personally. – Hillary Clinton
Achievement seems to be connected with action. Successful men and women keep moving. They make mistakes but they don't quit. – Conrad Hilton
One of the most important things I have learned is that businesses don't fail, entrepreneurs give up. Now sometimes, giving up is the right decision. But usually, you just need to dig in and figure out how to make things better. Remember: Every day is a new opportunity to get up and do it better than yesterday!" – Adda Birnir
Keep away from people who try to belittle your ambitions. Small people always do that, but the really great make you feel that you, too, can become great. – Mark Twain
Don't let the noise of others' opinions drown out your own inner voice. – Steve Jobs
Your most unhappy customers are your greatest source of learning. – Bill Gates
The men who have succeeded are men who have chosen one line and stuck to it. – Andrew Carnegie
Good management consists in showing average people how to do the work of superior people. – John D. Rockefeller
In order to be irreplaceable one must always be different. – Coco Chanel
You don't have to be a genius or a visionary or even a college graduate to be successful. You just need a framework and a dream. – Michael Dell
The type of person you are is usually reflected in your business. To improve your business, first improve yourself. – Idowu Koyenikan
Money is always eager and ready to work for anyone who is ready to employ it. – Idowu Koyenikan
You know you're doing what you love when Sunday nights feel the same as Friday nights. – Donny Deutsch
Timing, perseverance, and ten years of trying will eventually make you look like an overnight success. – Biz Stone
The entrepreneur always searches for change, responds to it, and exploits it as an opportunity. – Peter F. Drucker
The question I ask myself almost every day is, am I doing the most important thing I could be doing? – Mark Zuckerberg
Youngsters want to change the world. Elders want to enjoy their works. The entrepreneur sells anything needed by both to win their desires. – Toba Beta