If you are more concerned about your financial life, then you might already start working on your personal finance right? Or maybe some of you want to become a millionaire one day, who knows.
That's why, It is really important to know your Net Worth and track your earnings, expenses, and do budgeting to balance your financial journey.
We know nobody can rich overnight.
SMS based expense tracker iOS and android apps are very useful to collect those types of data and keep your financial data in one place, which is very handy when you don't know where you end up financially after 50 years run.
These types of trackers will automate all the processes in the app itself, including SMS tracking, which is awesome.
Our education system lack financial literacy and the only way to educate ourselves is by practicing in the real world and reading a lot of books on personal finance, which is super important.
It's a big deal to know about money and where it's going? The way you are using it, where you are spending it?
In this article, we are going to talk about expense tracker from SMS for iOS and Android devices, whether it's possible or not.
There are a bunch of apps out there that will help you to fast your expenses tracking process.
If you are an android user then there are plenty of options out there it is SMS based expense tracker app and works really well, but if you are an iOS user there is a caveat which will talk about later in this blog.
Unlike the other budgeting tools like Personal capital, mint, Ynab is a little different from these expense trackers. It has a different approach, unlike tracking your Net Worth, budgeting, and other stuff.
The main core features of these apps are: it is SMS based expense tracker app that is very handy to use and get notified based on messages.
Which is not available on Personal capital, Ynab, and Mint.
Before we hop onto the SMS-based expense tracker apps and start to track expenses from SMS directly,
Let's check out :
Why do we need to track our expenses?
How does budgeting help you to take better financial decisions?
What is the reason behind it?
And what are the best ways to track your money & day to day expenses?
Why expense tracking is

important?
There is a handful amount of benefits to tracking your cash flow and using the app to track expenses from SMS.
If you read Rich Dad Poor Dad you might be already aware of assets and liabilities.

It is one of the best books on personal finance where you can learn basic money management lessons from Rich Dad.
We all know if we don't know where our money is going, and how much we are investing as supposed to spend we will never be financially free.
If we want to be more mature and make good financial decisions we should learn all this stuff not only for business but in our personal life as well.
There is a bunch of apps to track expenses from SMS which is super helpful to manage our money.
Let's check out
how to manage our money and track our expenses?
#Point 1 
Money management and knowing your cash flow is quite simple as opposed to standard thoughts of it being a nerve-racking action. As an initial mark, if you subscribe to this idea, half the job is already done.
#Point 2
Put in place a system to track your expenses on regular basis irrespective of your financial situation. It should be in your routine just like diet, exercise, sleep, meditation, etc.
Certainly, you can't do it manually right, so the best option is to use some of the available SMS-based expense tracker app which will help you to do these tasks easily.
If you follow this 2 points, your own intelligence will take the driver's seat from then onwards. Believe me!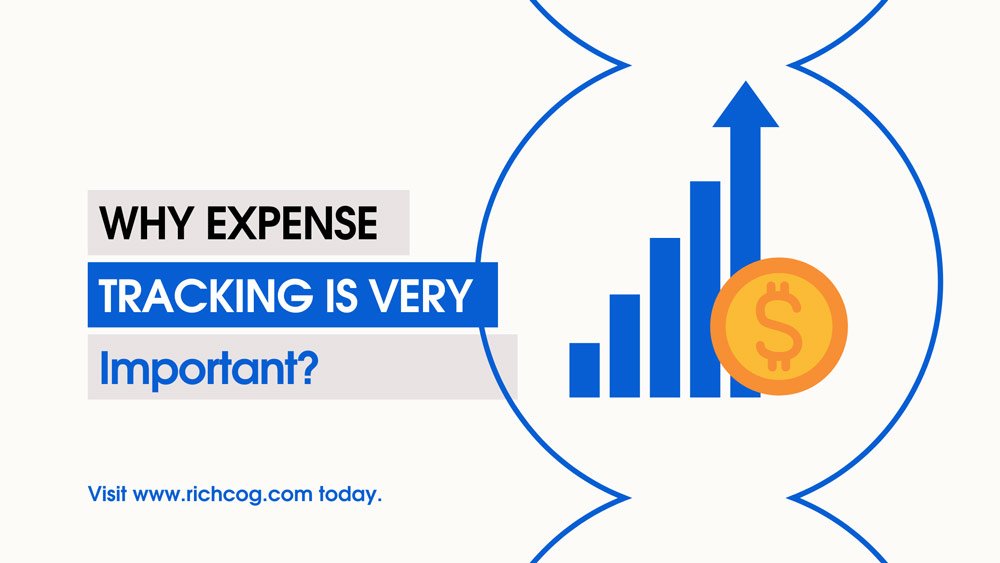 What are the

benefits of using SMS based expense tracker

app?
The best way to track your expenses is to use SMS based expense tracker app which I also use on my smartphone.
You can do it any moment, anyplace you go. (unlike using paper or computer software which is not comfortable to take with you everywhere you go)
The good side is, that you can store data in the cloud and access it on any devices you have.
SMS integration will notify daily reports of expenses without opening an app.
It provides reports, so you do not have to calculate how much you earn and spend every day, week, or month.
Some apps can connect with your online banking accounts or track transactions from SMS automatically which we are going to talk about just in a second.
These apps also come with other must-have features like budgeting, a saving tracker, and more.
1. Wal

nut (axio)
We all know this app well if you ever tested it and try to do budgeting.
When it comes to the SMS integration then this app for android users is a no-brainer, maybe that's why so many users use this app.
Walnut is one of the best money manager & daily expense tracker app in India to automatically and securely track your monthly spending.
Walnut helps you to stay within budget, pay bills on time and SAVE more every month.
This app is ony best intregeted for Indian users.
Using this app you can find out how much you spend on food, shopping, groceries, etc. and how you are saving month on month.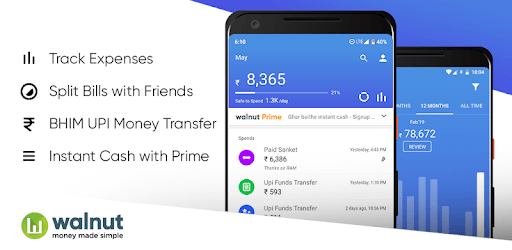 TOP FEATURES
✅ Take control of your MONEY and SAVE more – Answer the key questions of 'What', 'How Much' & 'Where' of your spends
✅ Keep a close track of credit card dues – no more surprises at the end of the billing cycle!
✅ SPLIT expenses with friends – The simplest bill split experience!
✅ Find ATMs with Cash near you in real-time
✅ All expenses at a GLANCE – Banks Accounts, Credit Cards, Digital Wallets, Sodexo, etc.
✅ EXPORT your data and generate expense reports (in PDF & CSV format)
✅ Check BANK BALANCES
✅ 50+ Indian banks and cards supported
It is a fully SMS based expense tracker app that is the core of an automated expense manager, which automatically figures out the expenses from Bank transaction SMS.
2. Fin

Art
FinArt app alleviates Reliable in terms of accuracy in the context of privacy & security concerns.
It does a great job of tracking & controlling your expenses without compromising on features and security.
This app is one of the best SMS based expense tracker android apps that gives complete user anonymity (no name/phone/email registration) and access over any financial data going out of your smartphone.
In FinArt, expense tracker & expense manager offers robust & unprecedented data privacy and security controls for managing your credit cards and other financial data: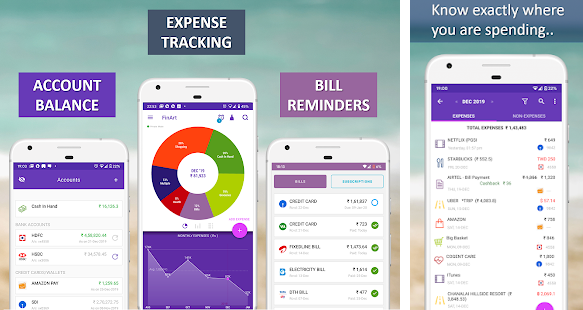 ✅ No email/phone number registration.
✅ Private Mode Option – It ensures your SMS text or bank transaction data isn't sent to FinArt servers.
✅ Store backup on your own Google Drive instead of 3rd party server
✅ Does not connect to your bank accounts

SMS permission is optional and required only if you want to track expenses and family budgets automatically.
When SMS are sent by all banks, credit cards & businesses for each transaction, it gets transformed into interactive and effective charts by the expense manager.
By using this app you can stop manual tracking of expenses & bills and be able to free up your mind for more important things in life.
3. Money

Lover
Money Lover is another great option out there that is SMS based expense tracker android app. 
It was developed by a group of millennials to first solve their money management & budgeting issues. which eventually turned out to be this great so everybody is using it now.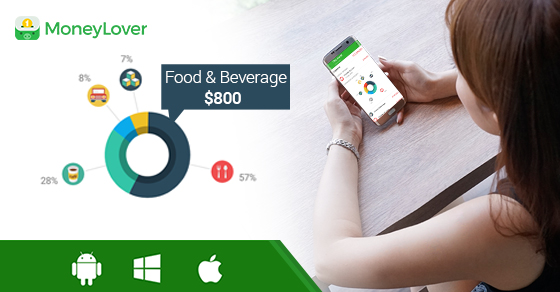 Top features of Money Lover
✔ Money Management: It is the starting stage to track personal finance including expenses and incomes quickly by specific categories (food, fuel, clothes..) in whatever devices (phone, laptop,..). Enter the amount, pick a category, select a date. That's all!
✔ Reporting: You can budget specifically all your spending habits with a Financial report. It shows a big financial picture includes all spending, income by date (daily, weekly..) or group (Food & Beverage or Shopping..)
✔ Budgeting: Thanks to budgeting, you now have a finance assistant. It will alert if you spend close to the budget limit and give daily budget advice. You can set a weekly budget, monthly budget & more depending on demand. So, you can reduce total expenses & never overspend again.
✔ Goal Wallet: Creating goal planning not only helps you track saving progress with the piggy bank concept but also motivates you to build saving habits. Make everything as your expectation!!!
✔ Credit Card Wallet: Relieve stress and anxiety with credit wallet. You will receive a reminder when repayments are due to keep a good credit score & avoid late-payment fees. Update your payment to start over in a new billing cycle. It's easy!
✔ Linked Wallet: Free your hand. Every transaction history & account balance is updated automatically when linking your online banking with Money Lover. 
Note: They support 17 countries and 150+ banks worldwide but you have to go to Connect to the bank and check the availability of your bank.
4. ET

Money
Unlike the other apps which I mentioned above ET Money is well matured in other departments as well. It has a lot of good features like:
Invest in Mutual Funds
Track & Manage external mutual fund investment
Get health report for External Mutual Fund Portfolio
Invest in Bajaj Finance Fixed Deposit
Invest in NPS (National Pension System) Scheme
Buy Health Insurance & Term Life Insurance
Track & Manage your expenses effortlessly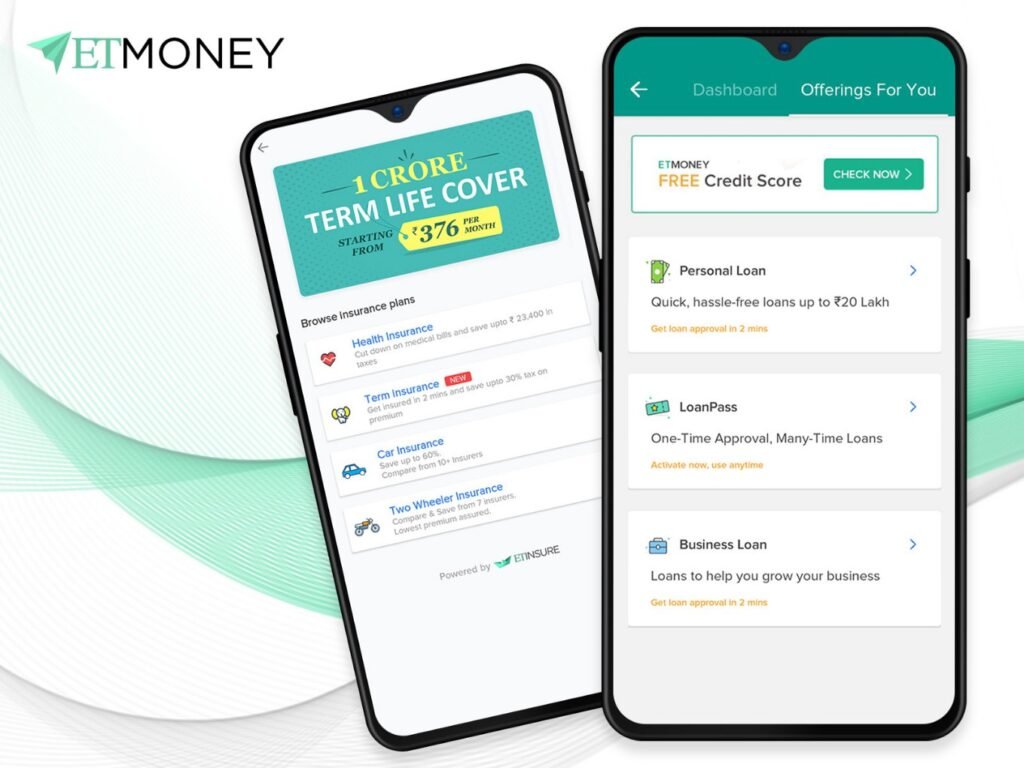 This app which well integrated to help you automatically track your expenses & bills via transaction SMS on your device.
ET Money used to call SmartSpends in the past, it was a lot simpler and has really small but great features at that time.
But now It is more of a money control and investing app that allows users to invest in different markets and save taxes at the same time.
5. Money

View
Money view is another great SMS based expense tracker app which will help you to track your cash flow and gives you the freedom to manage your money easily.
It is well capable to do your financial task like tracking your daily expenses, read your transactional SMS, email & more.
Money view is also more of an Indian app that is well integrated with an Indian banking system.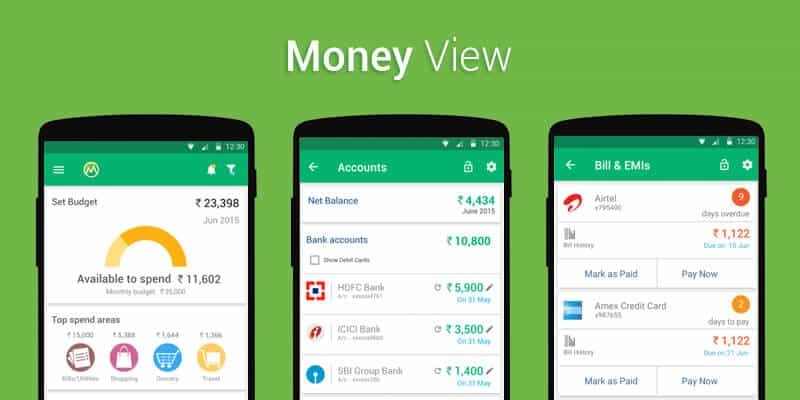 Top Features
● Check your eligibility & get a custom loan offer in a few minutes
● Personalize your loan offer according to your needs and lifestyle
● Get the loan amount credited directly to your bank account
● From application to loan repayment, it's all on the app
● Available in over 5000 locations across India
The one good advantage compare to others It will also ask for customer feedback from time to time to map the spending behavior.
Using that feedback system will suggest the time for bill payments. 
SMS based expense tracker iOS

App Is Available?
As far, as our own research: officially iPhone doesn't allow SMS-based expense trackers apps because of Apple's Sandbox restrictions. 
Just like you don't have any access to torrent apps on the Apple play store because of unauthorized and illegal activities.
There is no app available on the Apple Store like ET Money, FinArt, Walnut, Money Lover, and Money view which can analyze SMS's and create an expense sheet that will automate your tracking process much faster.
By default, iPhone apps can't access any app's data so if you are thinking about an SMS based expense tracker ios app then it's not possible as of now.
That's the main reason apps like FInArt, Money Lover, Walnut has no access to SMS integration I guess.
There are already so many apps out there on the play store which can do SMS tracking but you can't find any application that can read data from the SMS, which directly violates Apple's privacy policy.
Well, there are a good amount of people who prefect iPhones over Android just for the security reasons just like me. So it's fair enough from my side, what do you think?
It is known for the best security features and you can't find any public API available for developers to use and develop something which is already existing on android devices.
I'm not sure if something like that is available for jailbroken iOS devices. You can check out the Cydia store if you have a jailbreak iOS device.
However, iOS doesn't allow apps to access transactional SMS to put together your expenses automatically.
Still an option?

[ Somehow Possible Way ]
It is possible if you jailbreak the device and install this app as a "system" app so that it can gain access to your Messages. But no such app exists as of now.
Apple has designed the iOS in such a way that one app can't simply read another app's data (It can be done if the app wants its data to be read just like Gmail and Chrome).
In IOS devices no app can read a "system" app's data (mostly), unlike Android where you can grant permission to an app to read any data when you root your system.
Some apps like Zenmoney claim that they can read text messages but you need to manually copy stuff in Zenmoney. which is not automatic like other expense trackers out there on the play store.
So yeah, Nothing exists as of now and you can't have any SMS based expense tracker iOS apps for tracking transactions.
Hope it helps!
>> Use

Personal Capital
Personally, I recommend using personal capital on your iOS devices as you know there are no SMS based tracker iOS apps available for now. 
It's absolutely free and the best part of personal capital is its net worth tracking capabilities which are super handy and very useful.
The only downside of this app is you can't use it outside of the US.
It is mainly integrated with the United States so if you want to use this app outside of the US you can try Money Manager Expense & Budget which also includes so many features and has a great interface to track all the expenses and maintain your everyday balance sheet.
Last

Thought
All right, hope we covered everything that you've asked for and as for now we haven't found any iOS app that allows SMS expense tracking features because of Apple security concerns.
And we know Apple is concerned about their security because they have known about this.
Lastly, If you know of any kind of app that allows SMS-based expense tracking, let us know in the comment section below, we will be happy to check it out and share it, if it actually works.