Disclosure: This post contains affiliate links. If you use these links to buy something, we may earn a little commission at no additional cost to you.
If you love to watch YouTube videos then you might have seen one of the most popular vloggers Casey Neistat who always used to wear glasses.
And you might be wondering where I can buy Casey neistat sunglasses. If you have no ideas about Casey neistat glasses then this blog is a no-brainer.
In this article, we'll give you the list of Casey neistat glasses including cheap alternatives.

But little disclaimer Casey Neistat customize his sunglasses even though you buy the same glass it might look a little different because of his own customization.
The good thing about that is you can do that as well if you want to by watching his own videos, which you can see later on this blog.
If you want to know more about Casey, then,
Casey Neistat has been internet famous for years, but his rise to YouTube stardom accelerated rapidly after 2017 when he started making short films every day.
Casey is a YouTuber, filmmaker, entrepreneur, producer, and many other things. But most of all, he is a great storyteller (and motivational speaker in disguise).
Buy Casey Neistat Sunglasses

And Cheap Alternatives
If you have no idea, Casey neistat sunglasses are by Ray Ban. Which is a Wayfarers model And also foldable.
However, it's not that simple as you think. If you know enough about Casey Neistat he always used to modify his things in his own way like on his cameras, mics, tripods, etc.
Just like on those things, with the sunglasses as well, it needs to have a personal touch that makes it stand out above the rest.
Casey has actually made a video on how the unique design of his sunglasses were created and how he duplicates the look. You can see the video right above this content. This was easily achieved with a pair of Ray Ban Wayfarers and some off the shelf white spray paint.
As simple as that, isn't it cool?
Now, let's see the list of Casey neistat sunglasses including with the much cheaper alternatives, because we know the Ray Ban right, It's kind of expensive.
Current casey neistat sunglasses model
This is Casey neistat sunglasses model, exactly what he used to wear now.
It is A beautiful pair of shades and 100% real from ray bans.
You can get the matte black with lilac mirrored lenses as the same ones Casey Neistat wears now.
Which is how you got turned on to them as well.
They fold up nicely and fit well in your shirt pocket when indoors.
Hinges have a good tension, so they don't feel as though they might fold easily on their own, but very easy to fold when you need them to.
Previous casey neistat glasses
Just like the Ray-Ban RB4105 Folding Wayfarer Square Sunglasses.
These are also amazing which Casey used to wear in the past.
You can surely feel the quality in your hands, they are sturdy, the glass is heavy, obviously real glass and not cheap plastic, they came in the original case with the cleaning cloth and the warranty and instructions booklet.
And they are definitely authentic, as per all the inspection points like the hinges, the etching on the left lens, the static sticker, the box sticker.
They give your site a sense of rest and look pretty cool, You might prefer that these are not as big as the original Wayfarers, they are a bit more modern, more youthful though.
casey neistat ray bans cheap alternative
If you think that the Ray Bans are quite expensive than these sunglasses are definitely for you.
These are also foldable just like Casey neistat sunglasses, and also looks the similar and gives you same vibes.
I gave them 4.5 stars because the quality and durability is excellent for the price. The finish and feel of these glasses upon their arrival was excellent, and the clarity of the polarized lenses was superb.
The obvious drawback is the lack of a case designed around its folded configuration, like you get with "Ray Ban Foldies".
It comes with a full-sized case, which kind of defeats the whole concept behind having a compact set of folding glasses. Nevertheless, they are a fraction of the cost of a pair of Ray Bans, so this is far from a dealbreaker.
Ray ban casey neistat sunglasses alternative
Unlike the previous 3 sunglasses, this doesn't come with a folding feature.
But who cares, right if you are getting the same quality glass in the fraction of the Ray-Bans pairs. I have to be honest and tell you. I was a nonbeliever in Woodies.
That being said — Woodie's customer service is responsive and stands up for and by the product. You can't go wrong ordering from Woodies.
The glasses are dark-tinted (a little more than most). Great for the beach, just like Casey used to vlog a lot of times!
The frames are very nice and well-built. The temple hardware is spring-loaded, made of real wood, and fits comfortably.
Also, it comes with the Bamboo wood case which is very nice (and different) along with the carrying case, guitar pic, and cleaning cloth.
Cheapest casey neistat shades alternative
This sunglass is cheapest and one of the best if you consider the price.
If you don't care about the folding feature and worried about paying a lot of money, then this is give you the Casey vibes in a fraction of the price.
In my opinion, these are 95% of the look and probably 80% of the quality as compared to the Ray Ban glasses. These are also very lightweight are comfortable to wear., which is really nice.
Heck, you can buy a dozen pairs of these for the price of one pair of Ray Bans.
So check them out if you are in a tight budget.
Why does casey neistat wear sunglasses

?
Have you ever wondered why Casey always wears sunglasses? If you don't, then don't worry, we'll tell you.
Even though I have been watching Casey's videos for years (Not now because he is not active right now), but the fact he still wears sunglasses constantly still hasn't settled perfectly.
However, this perception changed after he finally explained why he is always wearing sunglasses, regardless of the setting.
With the creation of Vlogging, you always have a camera pointed at yourself while doing vlogging and shooting yourself all the time. Instead of just guessing to get the right shot.
Many Vloggers use cameras with flip screens, so they can see themselves live while recording.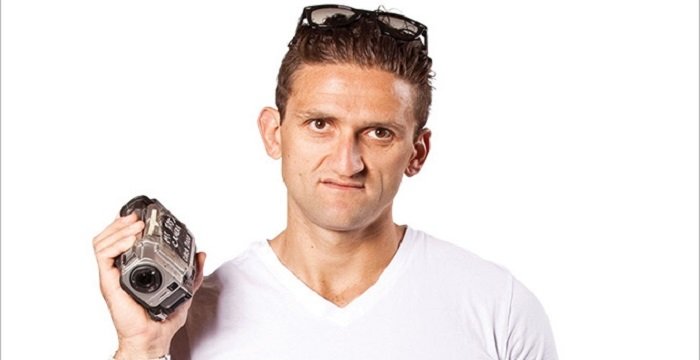 So instead of looking at the lens directly which you have to do otherwise, your eye directions don't point to the viewers directly.
But many vloggers look at the flip screen, which means you are looking away from the lens.
And that's kind of annoying. That's why he always wears sunglasses, so viewers don't know where he is watching because as he believes him looking away from the camera would be distracting to the viewer.
Great job Casey!!